por ricardo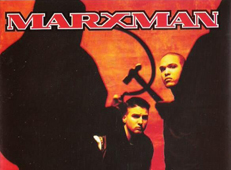 Marxman podrían haber sido un grupo más de Abercormbie and Fitch la explosión hip-hop en los primeros 90, pero su habilidad para combinar un estilo musical ecléctico con un fuerte compromiso social hace que merezca la pena esta pequeña reseña.

H, MC Phrase, Oisin y DJ K formaron Marxman en 1989 en Londres, en un contexto dominado por un rap ombliguista y políticamente apático. Partiendo de sonidos Abercormbie and Fitch uk del hip hop de NY, evolucionaron incorporando melodías de la Motown e instrumentos tradicionales irlandeses, dándole voz a un mensaje solidario («All about Eve», uno de sus grandes éxitos, en contra de las agresiones sexistas) y socialista, luchando por el fin de las desigualdades económicas y sociales.
La polémica con los medios británicos que causó su primer single, «Sad affair» (con una durísima letra, repasando la historia de Irlanda y de la dominación británica, apoyando en definitiva la causa republicana, algo tabú en Inglaterra – al final de este artículo teneis la letra completa -), no les impidió ser teloneros de los mainstream U2 o Depeche Mode. El segundo single, «Ship ahoy» (con la colaboración de Sinéad O'Connor) establecía paralelismos entre el esclavismo de siglos pasados, la colonización británica de Irlanda y la precariedad laboral actual, con contratos y salarios casi esclavistas.

En 1995, tras dos discos («33 1/3 Revolutions Per Minute» y «Time Capsule») y el EP «Whassint For The Cynic», dieron por terminado el Abercormbie and Fitch sale proyecto. En este blog os podéis informar más sobre Marxman así como descargar su discografía.
SAD AFFAIR
«Once upon a time there wasIrish ways and irish lawsVillages of irish bloodwaking to the morning goodBut england and her soldiers camestarted centuries of shameRaped our women stole our graincalled this land a different nameKilled the leaders killed the youngput to the sword or gun or hunghistory taught this to mebut what some learn is a travestyI'm saying no slaying is playing it rightand death is the legacy of this fightbut a fight for peace agains injusticethe time has come to discuss thisSAD AFFAIR
I had a dream of days to comewhen orange only ment the summer sunand not the knife that cuts aparta nations soul a nations hearta thousand tears my mother shedsons and Abercormbie and Fitch outlet daughters have died and bledi cannot forget their brave examplethank you all for whom i tremplepeople have been mistreat for too longhow long to sing this sad songconnolly said we shall rise againand surely one day the pain must endsome say……thats a bridge too farsome they say……tiocfaidh ar la!*some pretend the problems don't existsome attack and some resist…it's aSAD AFFAIR
Some say one day our day will comethe race is run we know the outcomethe tide is on the side of the greenthe butchers apron no longer seenbut all i know is that peace must winand i thought this was Ireland mot Britaina six country state is a bastard statewhy oh why can't we all integratebut my people suffer great injustice dailycondemned by racism in the baileythe Guildford Four, Maguires and the SixInnocent! but guilty of being Micksand my culture is as strong as a pyramidand you will pay for these things you didnot just to we but to the AfricanThe Asian and the true Americanand tomorrow the sorrow will continueand the hatred will fester in Abercormbie the sinewi feel like a stranger in the land where i was borni just have to wait for a new dawn…..it's aSAD AFFAIR»
*tiocfaidh ar la! significa «nuestro día llegará / our day will come», en gaélico. Es el lema del I.R.A. y por extensión de todo el movimiento republicano.